Do You Believe in 'em?
Did you ever come across any ghost in India? Well, it may sound eerie but on a note, these creepy stories exist on different paranormal lands across different places in the country and they are the most haunted places in India. Believe it or not, We have personally visited these places and never thought to stay long. Not after Sunset!  It might feel similar to a story or a horror Bollywood movie but, these 11 haunted places in India comes alive when the moon is out and black cats prowl over the shadows.
Also read: Astrology WordPress Theme by BloggerPrasad
If you let yourself free from the crowded city, you can visit these ghost in India with all ghostbusters gears and check out these 11 haunted places in India.
Top 11 Most Haunted Places in India
1. Aleya Ghost Lights, West Bengal
This place is more accustomed to a Wisps phenomenon. At night the Aleya ghost lights can be seen which is supposed to be a fisherman spirit and the pattern that it shows is an outline of his once-existence body. Definitely, an area where wisps reside and local believes that resembles a sign of impending doom. This is one of the most haunted places in India.
2. Agrasen ki Baoli, Delhi
Agrasen ki Baoli is visited by loads of tourists every year and it is said to have a ghost around the Baoli at night. It was believed that the place is the most haunted places in India. As once filled with black water which entices visitors to cuddle their way to the Baoli grave. The site has appeared on numerous Bollywood films one such from the movie PK when Aamir Khan is seen sitting on the staircases of Agrasen ki Baoli. But we say, none of the film shooted during night time. That resembles there is something unusual things going on for years now in this India's most haunted places. And it still exists!!
3. Bhangarh Fort, Rajasthan
With, numerous documentaries pouring into this haunted locations in India. Bhangarh became famous during a decade ago and it's one of the most haunted places in India. Even, when you visit this place you can look for a warning board which says After sunset no visitors are allowed in the premises of Bhangarh Fort. And it is stated by the Archaeological site of India, from Government itself. This has been a favorite place who needs some exciting horror experience as it is the most haunted places in India. But we warn them, milling against any odd practices or listening to any creepy stories down there. These ghost in India seems by no means they want any disturbances from outsiders.
4. The Church of Three Kings, Goa
Back in Portuguese times, There were three kings who fought over each other for the kingdom of Goa. The three kings were called and given poison which led them to death. The Church of Three Kings is famous for a bloodthirsty horde and one of the creepy stories that took no time to make this place the most haunted locations in India. They tried to lynch each other and committed suicide in public. All three kings were buried in near ground of Church and this place is haunted as locals believe. And, they still think that kings come to power and roam around the church during the night. One of the best India's most haunted places to look for.
This is one and the only church which is prohibited by everyone residing there It is the most haunted places in India. And, no more a tourist attraction. Through the creepy stories, it's famous for its ghostly appearance of the church at the front end.
5. Fern Hill Hotel, Ooty
If you often reside in hotels you must pay a good attention now! The hotel was close down because of occurrences of unpleasant occurrences, during a shot because of an inquisitive incident that happened on the sets of Raaz. Choreographer Saroj Khan and her crew members had settled down to rest one night when someone started relocating the furniture in the room above. It is India's most haunted places.
Also Read: Haunted Places In Chennai
Before long, the shrieking and pummeling sounds rose to such a pitch, to the point that sleep turned into a far-off prospect. Now, with someone from crew contacted the front desk that went futile. At last, a someone from the crew went down to launch a complaint, just to have the hotel staffs members bring up that there was no floor over theirs. One we're looking for visiting this haunted locations in India.
6. GP Block, Meerut
Do you know why everyone here avoids this place in Meerut? If you see someone drinking beer or a lady passing by in red gown. We prefer walking until they get out of sight. This might be the reason from far end many peoples have witness these phenomenon over the years and we're still in surprise how well dressed are ghosts in India nowadays. It is one of the most haunted places in India.
  7.  Mukesh Mills, Mumbai
 In 1870, This mill was built. It is known for its spooky behavior. A century-old Mills that is believed to be haunted by a male ghost. It came to light when an actress became possessed once. She told the staffers to get rid out of that building. It was really spooky when women speak out through a male voice. Leading actress Bipasha Basu also said to have experienced the same spookiness around here. Definitely one of the best India's most haunted places.
8. National Library, Kolkata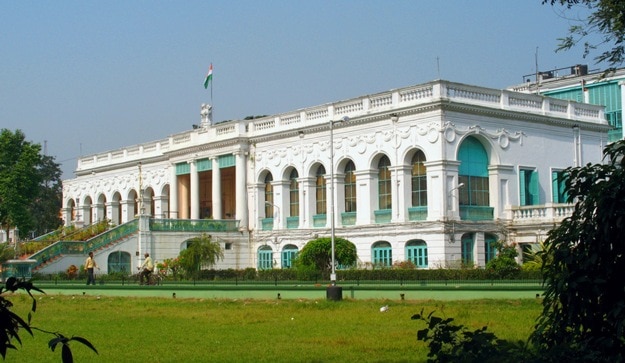 In between the city light who can think of ghosts residing in a Library although, the building was made from our colonial past and the monument architecture is a far older than you think. Even on daytime, someone narrated the creepy stories that are felt or seen by loads of people over here. If you think you can spend some time with books here, why don't you ask the guards who refuse to take night shifts at the library? Experience these in India's most haunted places.
9. Raj Kiran Hotel, Lonavala
This hotel is located at Lonavla hill station and it's most haunted place in India to get some spooky experience. People who have stayed at this hotel rooms retain a spooky experience. During night time they can see spooky ghosts moving across the hotel area. Some travelers have even reported of sheets being pulled off during sleeping. If you ever come across anything here at this hotel such as unnatural coolness in your room. You must leave the hotel at earliest. It's one of the most haunted places in India.
The hotel is still alive and maintained well by the staffs. But the hotel only gives out its rooms when people's visiting there asks for it.
10. Savoy Hotel, Mussoorie 
During a summer of 1911, a man named Frances GArnett-Orme took shelter with his friend later found out to be dead by the hotel staffs. People say that both of them died due to poison which sparked off numerous deaths after that in the hotel. Peoples stayed here seems to encounter noises late at night and hear footsteps echoing the lobby. This can be an interesting place if you would like to play some risk to encounter the creepy stories in these haunted places in India.
11. Kuldhara Village, Rajasthan
Kuldhara is also known as the ghost village. It has been abandoned since the 1800s and it is said that anyone who tried to inhabit the land met with undesirable consequences. The village is said to be cursed by the villagers who left it in order to protect their chieftain's daughter from then minister of the state Salim Khan. They cursed the village from being inhabited and since then no one could even spend a single day in that village particularly at night. This place is sure to be added to the list of most haunted places in India.
With, such places hovering all ghost in India,  you can start with the location nearer to you. If you go out to have some real fear around the corner. Let's begin this journey to haunted locations in India!
About The Author
This is a featured Post provided by Prasad Maitra. He is a lifestyle and tech support Blogger. You can find great content on his blog BloggerPrasad
Also Read: One Night @ Hazrat Nizamuddin Auliya Dargah
How to travel around America on just $20 a day